Modular Cath Lab Rentals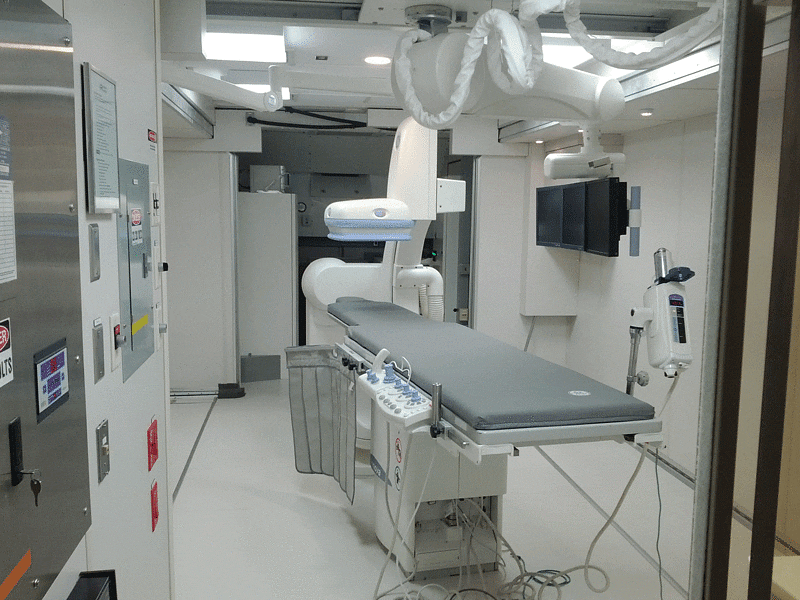 MedcoBlue offers Modular Cath Laboratories for lease and sale, designed for fixed sites. These labs are larger than mobile Cath Labs and are fully furnished with direct patient entry, separate procedure and control rooms, and advanced equipment from trusted manufacturers like GE, Siemens, Philips, and Toshiba. They can also accommodate standard patient beds. Our labs are FDA and OEM approved, with optional interior and exterior customization to match your brand.


Modular over Mobile?
Ideal for more demanding procedures such as STEMI, EP, etc
If a large procedure room is needed or required
Good for longer projects, program start-ups, and expansions
To maintain patient traffic during an upgrade or remodeling
Benefits of Modular Cath Lab:
Reduce patient backlog & overflow
Avoid space limitations
No large capital investment required
No buildout required
Expand new technologies
Convenient patient access
Continue service during renovations and remodeling
Cost-effective temporary lab solution
What We Offer:
Site planning and preparation
Technician services
- Technical support and engineer onsite service hours vary depending on the trailer and system
System set-up
Applications training available at additional charge; available upon request
Optional branding: Interior and exterior coach customization options that accentuate your brand
Full-service contract ensuring a carefree rental period with the full benefits of high-quality service agreements; available upon request
Custom service plans and coverage as requested
System service is included Monday-Friday during normal business hours, excluding holidays
Monitored 24/7 customer phone support
Preparation for your Mobile Cath Lab Rental:
Power:
Requires (A 480V, 3 phase, 150-200A power source)
A specific connector is needed; Russellstoll is the most common brand
Coordinating to have an electrician on call to change out the plug (if needed) is a wise precaution
Can also run on a generator which must remain active 24/7 while running the equipment
Connecting the trailer to your facility's electrical service is a less expensive and more environmentally friendly option than using a generator, as generators run on diesel fuel
Network:
Requires RJ11/RJ45 network wiring
Collaborate with the IT team to run the networking wiring and make the IT/network connections to the hospital
Space:
Have a concrete "pad" where the mobile Cath Lab can be safely parked
- Do not park on asphalt, asphalt softens in heat and the trailer stands will leave hazardous indentations
- *SOLUTION FOR NO CONCRETE SPACE*; if it needs to be parked on asphalt, the feet of the stands can rest on metal plates to distribute the weight and reduce the likelihood of damage, contact MedcoBlue if metal plates are needed.
- Make space, the trailer is 48' long, 8.5 feet wide and 13.5 feet tall, but a semi tractor is required to move and park the system, bringing the total length you will need closer to around 60'. Be conscious of turning radius and space requirements for basic maneuvering
Water/drain connections:
Only if the scrub sink is to be used
Rental Information:
Lease on fixed term rate
Equipment, service, and FSE set-up are included
Pass through charge for inbound transportation only
Thank you for your request. We will contact you shortly.